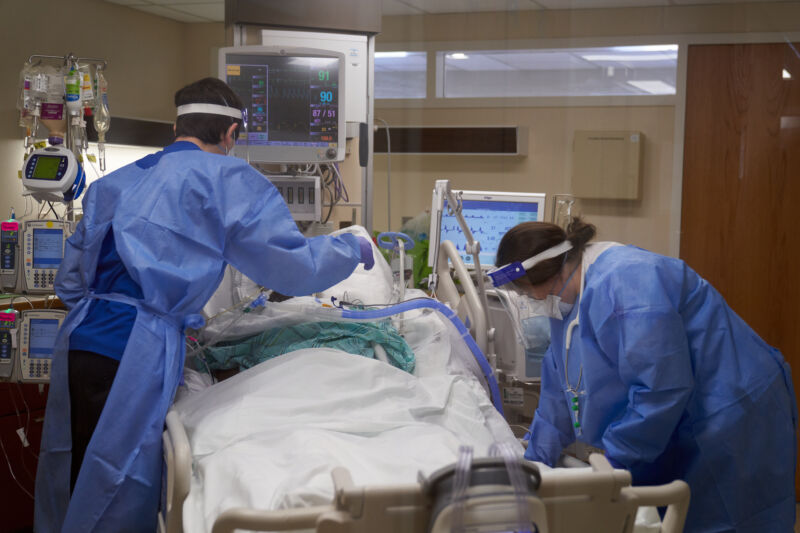 People over the age of 60 who survive COVID-19 are at increased risk of dementia, mild cognitive impairment, and cognitive decline (especially if they have severe COVID-19). This week's study at JAMA Neurology..
The study followed more than 1,400 elderly COVID survivors, one of the first people in the world to become infected with COVID-19 in Wuhan, China. The patient was discharged from three COVID-19 designated hospitals in Wuhan from February 10th to April 10th, 2020. The researchers followed the neurological health for the next year.
Their experience that year is not a good omen for the rest of the world. The authors of a study led by Yan-Jiang Wang, a neurologist at the Third Army Medical College, found that long-term cognitive decline was common after infection with the pandemic coronavirus SARS-CoV-2. As such, healthcare systems around the world need to be prepared for the potential for a significant increase in the number of people in need of dementia care.
Increased risk
In this study, researchers screened 3,233 COVID-19 survivors from the early days of the pandemic and 1,317 uninfected spouses who could serve as matching controls for age and demographics. Researchers are 60 years of age or older, have no pre-existing cognitive deficits or neurological conditions associated with cognitive deficits, have no family history of dementia, and have a severe illness, namely cancer or severe heart, liver, or kidney disease. ..
Eventually, the researchers found 1,438 COVID survivors and 438 uninfected controls that met the criteria and completed a 12-month follow-up. Of the survivors, 1,178 are classified as non-serious illnesses and 260 are severe illnesses (respiratory rate above 30 breaths per minute, severe dyspnea, or at least one oxygen saturation below 90). Was defined as having). Percentage of air in the room). There were no significant differences between survivors and controls in age, gender distribution, education level, classification of obesity index, or frequency of comorbidities such as hypertension and diabetes.
During the follow-up period, researchers began by interviewing family informants about cognitive changes in order to obtain baseline data early in the study. Participants were then evaluated directly at 6 and 12 months using existing telephone-based cognitive interview methods used to identify mild cognitive impairment (MCI) and dementia.
After 12 months of follow-up, 12% of COVID survivors had cognitive impairment. Specifically, 3% had dementia and 9% had MCI. Of the survivors with severe illness, 15% had dementia at the end of the year and 26% had MCI. Incidences of dementia and MCI were approximately 1% and 5%, respectively, in both non-severe COVID survivors and controls.
However, apart from addressing the clinical indications for dementia and MCI, researchers also have a year's worth of cognitive test results to clarify the cognitive trajectory of participants. Researchers have categorized these trajectories into four categories. Stable function. Means a stable score in the first 6 months and the next 6 months of follow-up. Reduced early onset. This means that it decreased in the first 6 months and was stable in the second. Delayed decrease. Initially it means a stable score, but it has declined in the last 6 months. It means a gradual decline, that is, a declining score throughout the year.
Orbit
Approximately 76% of people in the control group were classified in the study as having stable function, while approximately 68% of non-severe COVID survivors and only 30% of severe COVID survivors had stable function. Had Non-severe COVID survivors performed well when looking at the incidence of MCI and dementia, but trajectory analysis showed that they were at significantly higher risk than controls with early-onset cognitive decline. Risk modeling adjusted for complex demographic factors estimated that survivors of non-severe COVID were 71% more likely to develop earlier than uninfected controls.
However, those who survived severe COVID had significantly increased and decreased risk in all three categories. Survivors with severe COVID had a nearly 5-fold reduction in early onset, a 7.5-fold reduction in late-onset, and a 19-fold increase in progressive reduction compared to uninfected controls.
As always, the author acknowledges that research is limited. For one thing, face-to-face cognitive assessments may have provided more accurate results than the phone-based assessments used. Researchers also wanted to perform a cognitive assessment prior to COVID infection to increase the number of people in the control group. They also said that the findings may not be generalized because they screened people with a family history of dementia.Therefore, research is possible Underestimation Risk in the general population, including people with a predisposition to dementia.
Still, the general conclusions of the study reflect some conclusions. others find Decreased cognitive function When taller than Risk dementia Continue to COVID-19. Overall, the authors conclude that their new findings "suggest that a pandemic may contribute substantially to the burden of dementia worldwide in the future."